Chimneyside Tales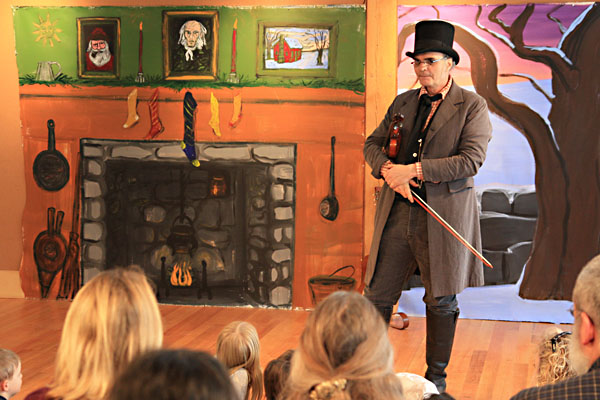 This series of programs illuminates the lives of 17th through 19th century Americans by way of historical songs and stories. Although the emphasis is on Anglo-American culture, First Nations, African, French, Celtic, Dutch and other cultures are touched upon as well.
Authentic period costumes and period correct (or at least approximately correct) instrumentation enhance the programs. Tom sings and plays (depending on the era depicted) parlour guitar, gutstrung banjo, harmonicas, and fiddle. Singing along and role playing with Tom's colorful handmade props and masks are encouraged.
The programs, which are about 45 minutes and length, are ideal for 6 and older but can be adapted to any age.
Tom is also available to perform as a strolling historical troubadour at festivals, reenactments, and historic sites.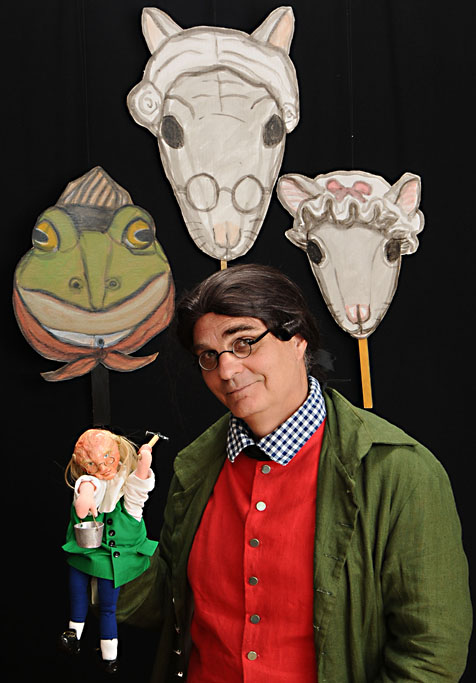 Programs include:
THE NEW WORLD- Explorers and early settlers of the thirteen colonies are revealed in this collection of 16th and 17th century songs which includes "Tomorrow the Fox" and "The Marriage of the Frogge and the Mouse."
IN THE GOOD OLD COLONY DAYS-Professions, courtship, and childhood of the 1700s are explored through such songs as "The Old Man who lived in the Woods", "Alouette" and "In the Fields in Frost and Snow." Stories include "Yankee Doodle" and "Mumbet" Click on the "…Colony Days Sampler" to hear some of the program.
A LYRICAL LIFE- The New England of the 1800s and earlier. Listen to the "Chimneyside Tales Sampler" on this page.
YORK STATE YARNS- New York State of the 1800s and earlier. Listen to the "Chimneyside Tales Sampler" on this page.
ROLL ON, MY RIVER- The Hudson, the Mississippi, the Ohio, and other American rivers are celebrated in these songs and stories of the 1800s.
THE MEETING OF THE WATERS-The Erie, the Farmington, the Morris, and other American canals are remembered through songs and stories of the 1800s.
SONGS OF THE SEA- Chanteys and other sea songs of the British Isles and North America.
UNCANNY CREATURES AND UNCOMMON CHARACTERS-Strange tales and supernatural songs perfect for bright October days or cool autumn nights by a bonfire.
FIDDLE DEE DEE, CHILDREN'S FOLK SONGS OF OLD NEW ENGLAND-Songs from Eloise Hubbard Linscott's classic 1939 book , FOLK SONGS OF OLD NEW ENGLAND. This show is usually performed with singer, Nancy Finlay. See the "Hanford&Finlay" webpage. A CD of the same title is available on this website.
WASSAIL! WASSAIL! ALL OVER THE TOWN!- Colorful American Christmas and winter solstice traditions of the 1800s and earlier. "Wassail! Wassail! DVD available on this website.
New for 2011: Brand new samples
from Tom Hooker Hanford
The New World

In The Good Old Colony Days